Dream scenario for Erwin de Bruin after buying Nevada van 't Merelsnest
There is no shortage of Olympic influences in this collection. We already spoke to Joop Aaldering about Olympic champion Classic Touch. This is the foundation mare of the two embryos you can invest in this auction. But we also see Sapphire, the two-time winner of Olympic team gold, in this collection.
The granddam of the embryo of world champion Cumano out of the Darco mare Nevada van 't Merelsnest is the half-sister of McLain Ward's Sapphire. This daughter of Darco contributed to America's Olympic gold medal twice. Her dam Idjaz-C, is one of the foundation dams of today's Belgian success breeding and also the granddam of the Grand Prix stallion Glasgow van 't Merelsnest. In this year's January auction, Erwin de Bruin and his parents bought Nevada van 't Merelsnest. This pregnant mare gave birth to a foal by Eldorado van de Zeshoek this year and in this auction, her genes will again become available through an embryo by Cumano.
"Sport gives sport"
"We were looking for a still somewhat young, and most importantly, pregnant broodmare with which to take our breeding to the next level. With thoughts like 'it starts with the mare' and 'sport gives sport', we were looking for a mare in which sport is anchored in the dam line. We also wanted a mare that is not too small and correct in the legs", Erwin explains.
Fan of Eldorado van de Zeshoek
"In our eyes, Nevada fully met these requirements. I found it an appealing mare to look at and saw that she was in foal to Eldorado van de Zeshoek, a stallion I am very much a fan of. She had previously given birth to a foal by Eldorado and that was sold for a nice amount at a German auction. I also thought this was a very nice, correct foal with good movements and a nice front. In addition, I saw footage of Nevada as a four-year-old in a jumping course. She made a nice jump and I saw that she is a good rideable mare, something I value highly."
Search for suitable mare
Erwin himself is active in show jumping up to 1.40m level and, together with his parents, breeds several foals a year. "We want to breed some more foals in time, so that in addition to the foals we keep for sport and breeding, we can also sell foals at auctions. Of course, with a mare like Nevada, that is very interesting."
Every breeder looks for that suitable mare to take his or her breeding to the next level. How has Erwin approached this? "We like to follow auctions in which (pregnant) broodmares are offered, because this way you can come across interesting mares that you normally don't easily find in your own network or on the internet. I started following StuDutch's auctions after hearing about them on social media, then I created an account which means I am always up to date with the latest collections."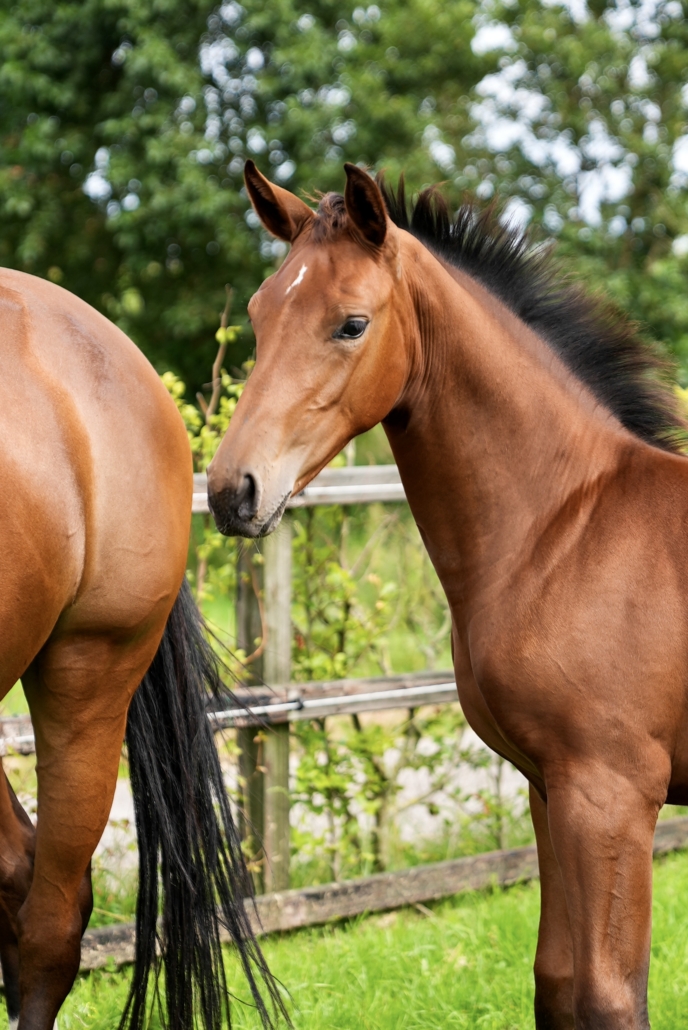 A dream scenario
This spring, Nevada van 't Merelsnest gave birth to a filly by Eldorado van de Zeshoek. "The mare is very well behaved which is very nice and important for our small-scale jumping stable Stal de Klomperhof. The birth went super and we got a beautiful, correct and well cantering filly (!) out of it: a dream scenario! As we wanted to keep the foal anyway, this is of course super to continue breeding with this lineage later on. We recently took the foal to rearing and can't wait to get started with it in a few years' time."
Pregnant again
Meanwhile, Nevada is also pregnant again, again by Eldorado van de Zeshoek. "We normally never cover with the same stallion twice in a row, but as we were super satisfied with this year's filly by Eldorado and the sperm of a different stallion didn't resulted in a pregnancy, we covered Nevada again with Eldorado. She is scanned nicely pregnant and we are curious to see what kind of foal she gives us next year."
Embryo of world champion
In the current auction, for which bidding starts this Friday, an embryo out of Nevada van 't Merelsnest will be offered this time. The mare, who comes from one of the best BWP dam lines, is this time combined with world champion Cumano with whom Jos Lansink dominated the show jumping sport for many years. The auction closes on Monday evening 30 October from 8pm.
"Exclusive collection time and again"
"What I find very exceptional is that Sjaak can keep putting together such a collection of exclusive straws, embryos and broodmares time and again," concludes Erwin.
Curious about the entire collection? This time it consists not only of embryos, but also of a pregnant broodmare, a three-year-old sports mare and several straws.
https://www.studutch.com/wp-content/uploads/2023/10/IMG_6723.jpg
657
1170
studutch
https://www.studutch.com/wp-content/uploads/2019/01/logo-trans.png
studutch
2023-10-23 20:38:59
2023-10-23 20:38:59
Dream scenario for Erwin de Bruin after buying Nevada van 't Merelsnest