Julien Epaillard: "Dubai is a warrior"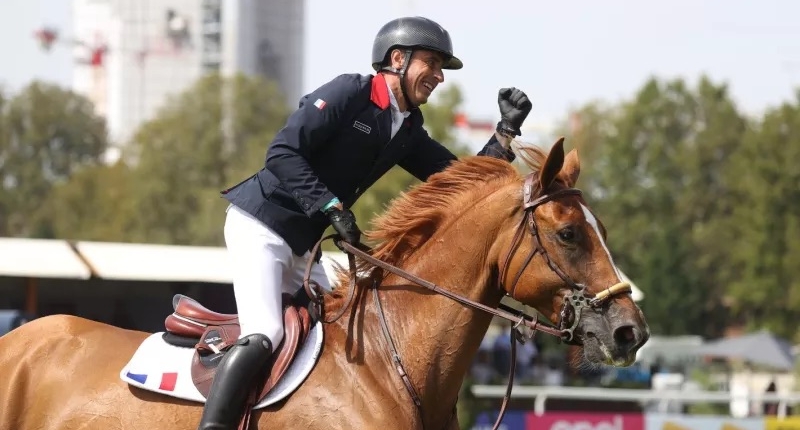 Only 10 years old, making her debut at her first international championship and then going home with a bronze individual medal at the European Jumping Championships! Not for nothing is Dubai du Cedre currently the best jumping mare in the world according to the FEI Jumping Combination Ranking. The 'flying Frenchmen' Julien Epaillard describes his mare as 'a warrior' and is looking forward to the future with this Baloubet du Rouet daughter who also already knows how to pass on her qualities.
Dubai du Cedre's great performance line came to the Netherlands nine years ago, when Sjaak van der Lei of StuDutch bought Eljadida du Cedre as a foal in France. Eljadida (by Kannan) is Dubai's one-year younger sister, she jumped internationally up to 1.40m under Wesley Mulder. "This is an abnormal lineage," says Van der Lei. "The dam of Eljadida and Dubai is the full sister of Quickly de Kreisker, at the time the number one in the world. From Quickly's dam alone come three 1.60m horses and three 1.50m horses." But also Jumpy de Kreisker and Javelot d'Helby, as well as more than 20 other directly related1.60m horses.
"Fantastic foals"
"We have already bred fantastic foals out of Eljadida and are still using her for breeding via embryo transfer." At StuDutch Auction's last online auction, Dubai's direct daughter Harlem du Cedre (by Cash du Plessis) was part of the collection and was sold to Stal Poppelaars who will use her for breeding. Dubai's half-brother Estoril du Cedre (by Jarnac) is successful under Siebe Leemans. They recently came second in a 1.45m class at the Global Champions Tour of Valkenswaard and a day earlier they won a 1.40m class. The now gelded approved BWP and AES stallion is still available via frozen semen.
"Paris will be really enjoyable"
Back to Dubai du Cedre. Those who followed the European Jumping Championships in Milan could enjoy beautiful sport and incredibly good horses from interesting lines. "I found it remarkable how many relatively young horses participated and how absurdly well these horses jumped. I did not follow everything from the European Championships, but what I saw was really top-notch. Not only Dubai, but also Dynamix, Zineday, Iliana. If all these horses stay in shape, or get even better, Paris will be really enjoyable!", says Sjaak enthusiastically.
International championship debut
Many horses made their international championship debut and they were anything but mediocre. Gold went to 10-year-old Dynamix de Belheme (by  Snaike de Blondel) and former Olympic Champion Steve Guerdat, silver was won by Philipp Weishaupt and 9-year-old Zineday (by Zinedine) and bronze went to Julien Epaillard and Dubai du Cedre (by Baloubet du Rouet).
"She is so eager"
Immediately after winning the medal, we spoke to Julien Epaillard, who was nothing but full of praise for his mare. "She's a warrior, she always tries and she really fights for me. Sometimes it is difficult to control her energy, she is so eager. She has a lot of blood, but that's also why she jumped at her best today. She has been jumping big classes for four days now, but today on the final day she jumped the best. She was more relaxed and listened better. The European Championships were really a fantastic experience for us. I am getting to know her better and better and I am really looking forward to the future. With Donatello and Dubai, I have two very strong, good horses for Paris."
"I really like a mare like Dubai"
Epaillard is not only a highly respected rider, he also does well in breeding. Among other things, he has bred his other top horse, 10-year-old Donatallo D'Auge, himself. Dubai has also been used for breeding before her sporting career. She already produced two Selle Français-approved stallions: five-year-old Istanbul du Cedre (by Casall) and four-year-old Joli Coeur du Cedre (by Dollar dela Pierre). Her oldest offspring, the seven-year-old mare Goodnight du Cedre (by Vagabond de la Pomme), competes internationally in 1.35m classes. "I really like a mare like Dubai," Epaillard said. "She is a real French mare, she is very good in the head. I love French horses. For now the focus is on the sport, after that I would like to use her for breeding."
No mathematics
"Breeding is not mathematics and that makes it difficult sometimes. It takes a long time to know how a mare breeds," Epaillard explains when we ask him about what he considers important in a broodmare. "With time, you get to know a mare better and know how best to use her. Sometimes, for example, a combination with a stallion does not turn out well and then we try another stallion. And there are mares that always give a good foal, in which case it makes much less difference which stallion you use. But a mare with a good, proven pedigree is important, that always comes back at some point." And Dubai du Cedre is living proof of that.
Photo: FFE.com
https://www.studutch.com/wp-content/uploads/2023/09/IMG_6040.jpg
451
800
studutch
https://www.studutch.com/wp-content/uploads/2019/01/logo-trans.png
studutch
2023-09-15 12:48:17
2023-09-15 12:48:17
Julien Epaillard: "Dubai is a warrior"